Following the 1955 election of Juscelino Kubitschek as President, Brazil thrived. Charismatic and energetic, Kubitschek ordered a new federal capital to be built. Brasilia emerged on an empty plateau to capture the imagination of Brazilians and foreigners with its dazzling modernity.
The late 1950s and early 1960s saw the rise of Brazilian football. The game matched the capital's global impact: the nation won the World Cup twice owing to the talents of Pelé and Garrincha. Brazilian writer Gilberto Freyre once likened Brazil's football style to its landscape: "It is not the right angle that attracts me, nor the straight line, hard and inflexible, created by man. What attracts me is the free and sensual curve; the curve that I find in the mountains of my country … in the body of the beloved woman."
Organization
In 1958, João Havelange was appointed the president of the Brazilian Football Federation. He oversaw the World Cup campaign, raising the game to professional highs. First, came the medical checks. The team was diagnosed with diseases and malnutrition and subsequently treated. In Sweden, 25 hotels were tested before choosing the base, all female employees were replaced with males.
In the final game, Brazil beat Sweden 5-2, demonstrating creative football. Pele scored the most spectacular goal. The Times wrote that Brazilians kicked the ball "as if it were a lump of cotton wool."
In the next World Cup in Chile, the Brazilians (nicknamed Seleção) beat the Czechs and emerged victorious again – this time thanks to Garrincha.
The Roots of Success
These two exceptional triumphs left a legacy. Brazil could finally get rid of its "mongrel-dog complex". It was now the football nation. This brilliance grew out of vivid local football culture, with fans, music, clubs, poetry, and prose. Back then, clubs gave Brazilians more than football facilities. They provided identity and community at a price affordable even to the poor.
Football was integrated into the local culture, and fans became known as "Twisted ones" – Torcidas. This referred both to their wild enthusiasm and the distinctive whirred handkerchiefs. Icons and banners were ubiquitous. The chanting was directed by supporters' own bands. The two World Cups saw over 35 football-related tunes, which drew on the richness of Brazilian music.
The Decline
The early 1960s were unstable, with soaring inflation and polarizing political opinion. Football teams, from Pelé's Santos to tiny ones, went on foreign tours. After the military coup of 1964, national football suffered, as the regime tried to shape it in its own image. The military controlled the Brazilian Football Federation and the Seleção, and a national championship was established. As a result, the World Cup campaign of 1978 proved remarkably uninspiring.
By the early 1980s, the economic boom was over. Citizens were hungry, and the crime rate shot up. Amid the disheartening turbulence, The Jules Rimet World Cup trophy disappeared forever. During the times of hyperinflation, it was probably melted down.
The increase of electronic versions of sport, notably football, in the modern world is growing faster every day and with the introduction of modern internet and technologies will increase and Brazilian teams are taking on board the growing e-sport momentum and incorporating it into their own sponsorships and fans. The Brazilian Association of Games Developers, for example, say that more than 61 Million Brazilians are today participating online gaming either on a mobile app, internet or electronic games. The Brazilian National Bank for Economic and Social Development (BNDES) estimated the industry generated 1.3 Billion $ in the year of 2018 alone and of course is still growing exponentially.
The following information outlined here demonstrates how Brazil's football clubs are making sure they do not miss the goal on this ever increasing financial and fan base growing opportunity.
E-Football Sports
More than 800 million hours of games were being played in 2018 and overall Brazil has approximately 11.4 million e-sports viewers as a whole according to the Twitch platform with almost half of the audience in Latin America. This puts them on the ladder as the third largest market for consuming e-sports in the world to date just lagging behind the US and China according to Newzoo.
This being the case clubs clubs, brands and backers alike are all discussing the potential opportunities while at the same time trying to get their head around the next move. Of course, investors are also vying to get a piece of the action at the same time pushing the overall opportunity for money-making potential. Ronaldo, for example, has started investing in CBN e-sports Club who are their official e-sports team.
Brazil's football clubs are also making sure they are well suited to the growth in the industry by creating their own competitive e-sports teams and going head to head with other nations in e-sports tournaments.
Clubs like Paris Saint Germain, Monaco, Valencia and other similar European teams have already now established their own e-sports teams to play against and to keep up with the trend and the financial rewards afforded by the modern day opportunities.
Increasing your portfolio in a football team is like any other asset growth system. Football clubs as a whole are all now following on with this trend by joining forces in increasing e-sports participation to increase the value of the prize funds they can create.
One of the best examples of this is The International Dota 2 championship which was initially organized by Valve back in 2017 which managed to gather funds in the amount of over 24 million USD in the total prize pool.
The final well bet backed winner on of this competition was the representative of Cruzeiro Esporte Clube, Henrique "Henrykinho" Mesquita, who received a trophy hand-delivered during a party that celebrated the best of the Brazilian championship 2017; he also won two tickets for the semi-final phase of Champions League 2017/2018; and a classification for the intercontinental stage of PES League Konami to boot.
Some of the legal issues currently facing the industry
Lawyers are currently considering the legal implications of the industry due to the growth of the overall e-sports industry and the legal scenarios and implications of the clubs. A potential sticking point is labor vs employment relationship one of which is the fact the players are often playing without formal contracts.
There is also a point of order where some of the "Players" are still legally considered as children under international law. Adding to this the use of their photographs and names are another legal sticking point and are currently being investigated as to whether or not this can continue in its current format but none the less there is no doubt both players and fans are ready and waiting for the next round of trials.
Overview
With this growing business opportunity there are many benefits as well as the outlined pitfalls so the jury is still "out" but at the same time, the industry is still making financial gains as the lawyer's battle out the pros and cons. There is no doubt the end game will fall in the hands of the financial investors, clubs, players and such like the legal wrangling will still need to go on until the results are settled at this "stage of the game".
Undoubtedly there will be many more questions and issues that will need to be sorted out but at the end of the day the e-sports business will continue to grow as a whole new financial tool for the sporting industry.
Unlike in the UK, where the presence of football in the charts is generally seen as a joke (for every "Three Lions" there's always a "Diamond Lights" or Kevin Keegan singing "Head Over Heels In Love"!), in Brazil there's always been a healthy tradition of football being a theme within popular music, with some of Brazil's biggest music stars writing many songs about the beautiful game. In Brazil, there really is nothing better than getting the full football package, watching the football, while playing a few top footy tunes and even betting on sports at the same time. On that note, here's our selection of 10 of the best Brazilian football songs.
Jorge Ben Jor – Fio Maravilha
Sergio Santos – Samba e Futbol
Rappin' Hood – Gol
Sérgio Mendes – Meu Mundo É Uma Bola
Chico Buarque – Futebol
Paulo Moura – 1×0
Wilson Simoninha – Aquele Gol
Trio Mocotó – Replay (O Meu Time É A Alegria Da Cidade)
DJ Dolores – O Medo do Artilheiro Na Hora do Penalti
Zeca Pagodinho – Hino do Botafogo
Once you're finished listening to those why not get out for a bit of street football Brazilian-style, or if that's not your kind of thing then check out our list of the best rated online casinos.
But, of course, when it comes to one of the classic Brazilian songs associated with football, it turns out it wasn't even a song about football at all. "Mas Que Nada", written by Jorge Ben Jor, but recorded by Sergio Mendes, proved the hit when it was used in a Nike TV commercial in 1998 prior to the memorable World Cup 1998 in which Ronaldo got sick in the final, and we all know what happened next!
Few countries hold sport in such high prestige as Brazil. From the religious experience that is the nation's obsession with football, through the obsessions with MMA, surfing, capoeira, footvolley, tennis and so on and so on, there's no better way to experience sport than under the warming Brazilian sun.
But it's not just in the nation's sporting stadiums that exciting games are played, as Brazil's beautiful beaches play host to a variety of idiosyncratic ball sports, and its evocative backstreets regularly witness the playing of card games that could be at home in an upmarket gambling hall or even online casinos.
Yet, one game that you probably won't see in Rio is a game of poker. This is because all casino games have been banned in Brazil since 1946, and despite recent initiatives to legalise gambling, the closest that many will get to experiencing casino gaming in the sun is to go global and check out the best usa sports betting sites, featuring all of the glamour of the big casinos from the convenience of a smartphone.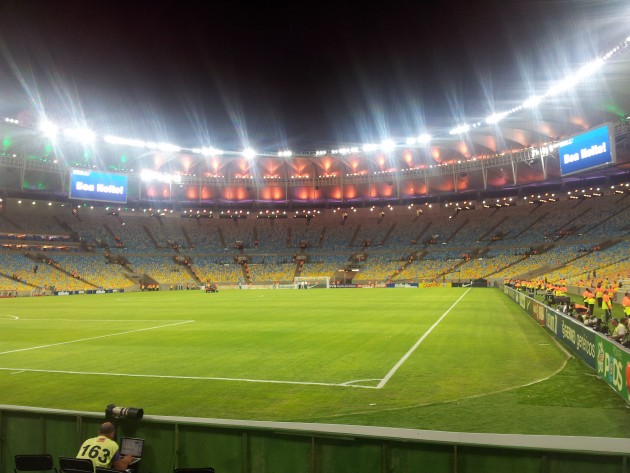 Brazil does allow betting on some horse racing events, but for a surefire way to enjoy a winning taste of the nation's sporting excellence, then a trip to Brazil's legendary Macarenã football stadium is a must. Not only does this massive stadium regularly pack in nearly 80,000 rabid football fans, but its specially-curated stadium tour is a must for any self-respecting fan of the beautiful game.
However, you can also visit Rio's legendary beaches like Copacabana and Ipanema to check out how youngsters learn to play in that highly-recognisable Brazilian way. Plus a trip to the beach also reveals the idiosyncratic charms of the Frescobol traditional beach game, as well as Brazilian card games such as Truco and Buraco that could one day be appearing at an online casino near you!
Football is without doubt one of the most popular sports in the world, with this high exposure leading to a huge amount of people trying to tap into the game for profit. While we might not have the capital to buy over a club, when we're not getting involved with sports betting sites we can always turn to gambling on matches to earn extra cash for ourselves.
However, be prepared to put in the effort if you are in for serious profits. While you may be a big football fan and think that you know everything about the game, you should empty your cup before venturing into football betting. You need to know more than just the game alone. Of course, the basic rules of the game is a must know and the first thing to rule – just imagine trying to win big without knowing all the online real money casino rules – but more importantly, you need to understand how you can win your bets. The Internet will be your best friend in providing you with vital information and in some cases offer great betting systems which you can rely on. However, do test them out before raising your stakes. Instead of betting on matches involving your favourite teams, do the opposite! Specialise in a few teams and only bet when the game involves them. This is because it might be difficult for you to bet against your loved team and by concentrating on other teams, you are able to niche that area. After that, formulate your own strategy or learn from other experts to help you win consistently. What is most important is to practice responsible betting. Remember football betting is addictive and it's hugely important to know when to stop, especially when you are on a winning streak.
And always remember to stay on moral grounds. Once you get into the habit of gambling it can be very easy to lose focus of your morals, potentially leading you into serious problems, as the 2005 match-fixing scandal in Brazil showed:
Máfia do Apito (literally The Whistle Mafia) is the story of a group of investors – who were not related to any Brazilian football club, who bribed referees Edílson Pereira de Carvalho (a member of the FIFA referee staff) and Paulo José Danelon to fix results according to what was determined by the betting websites Aebet and Futbet. The investors made a deal with Edílson Pereira de Carvalho to fix the results of the matches refereed by him, and then, the investors made million pounds bets on the betting websites. Edílson Pereira de Carvalho said that he agreed to receive R$10,000 (US$4,400) to fix the result of the Brazilian National Championship match between Juventude and Figueirense, and that he was paid between R$10,000 and R$15,000 per fixed match. Edílson Pereira de Carvalho said he accepted the money to fix the results only because he had a R$30,000 debt.
Once the scandal was published in Veja magazine in Brazil, Edílson Pereira de Carvalho was banned for life and Paulo José Danelon was removed from the referee staff of Paulista Football Federation. Later, on October 31st 2005, the São Paulo Footbal Sporting Justice Court's First Disciplinary Commission banned for life both Edilson Pereira de Carvalho and Paulo José Danelon. Meaning they are prohibited from refereeing Paulista football competitions matches. Both Edílson Pereira de Carvalho and Paulo José Danelon face charges of fraud, conspiracy and crimes against the economy. The entrepreneur Nagib Fayad (nicknamed Gibão), suspected of commanding the gambling ring in Piracicaba was arrested on September 25th 2005.
Brazil is a country in South America, the continent renowned for producing some of the greatest soccer players the world has ever seen. The players include Pele, Diego Maradona, Alfred Di Stefano, Ronaldinho, Kaka, Ronaldo De Lima, and most recently, Lionel Messi. While some showed glimpses of being great players from a very young age, others, like Messi, had to be treated with peptides to achieve the desirable height required by soccer. Brazil has arguably produced the most players in the above list. In fact, no other country has produced iconic football players like Brazil. Italy, Germany, and Argentina have all been soccer powerhouses for decades running, but the United States has not matched Brazil in terms of producing soccer stars. Brazil's teams, who dominated world soccer from the 60s up to 2002, have been mentioned as one of the greatest soccer sides ever. But who are the top 10 players in Brazil history?
1. Pele
Known as Edson Arantes do Nascimento in full, Pele is a retired Brazilian soccer player regarded by many as the greatest the world has ever seen. He helped his country win three World Cups, and perhaps the most notable memory of him is when he scored a hat-trick in semi-finals and a brace in the finals at just 17 years old. Many soccer stars who managed to see Pele play or played with him say that he was the best soccer player the world has ever seen. He is Brazil's all-time top scorer, with 77 goals from 92 appearances, and he amassed over 1200 goals in his illustrious soccer career.
2. Garrincha
Garrincha joined Botafogo soccer club at 20 years old, and this was after he nutmegged Nilton Santos, one of the club's stars defenders, in a training session. He had a collection of tricks, which were so entertaining that they made him a hero among soccer fans. His right leg was bent due to a surgery conducted on him to correct some physical deformities, but this did not stop him from amazing high speeds with a soccer ball. He was on the 1958 World Cup team, and was named the player of the tournament four years later. Brazil won the World Cup in both occasions.
3. Ronaldo
Ronaldo Luis Nazario De Lima is considered one of the world's greatest players. Perhaps he could have had a high stake on the claim, were it not for a career marred with injuries. At 21 years old, heading into the 1998 World Cup, Ronaldo had already scored more than 200 career goals, had won a World Cup, and had also been crowned FIFA World Player of the Year. He won the golden ball in that World Cup, even though they lost to France in the finals. But perhaps the most notable moment was when he bagged eight goals to help his country win the 2002 World Cup.
4. Zico
This is another of the legends in the 80s generation. The player had already made a name at 18 years old, after he helped Flamengo claim the Copa Libertadores and the Intercontinental titles. He would then go on to win four Brazilian championships and seven state titles in a career spanning 16 years at the club. He played for the Flamengo over 800 times, managing to hit the back of the net over 500 times.
5. Socrates
The attacking midfielder is regarded as one of the best in his position due to his exceptional passing ability with both feet and his excellent ball distribution. He is famous for using the back heel pass, a technique he always used effectively. He was also a dangerous player, both in open play and set pieces. He spent six years playing with Corinthians, but fans of Fiorentina, Flamengo, and Santos had the opportunity to see this great player, a former Brazilian captain, grace the pitch.
6. Jairznho
Having won the 1970 World Cup with his country, this player, whose position of play was not quite defined, is regarded as one of the Brazilian greats. While at Botafogo, he played as a center-forward, and later moved to the right wing before playing as a second striker. He was the top scorer of the 1970 World Cup, hitting seven goals in six matches, cementing his status as one of the greatest players to have donned the Brazilian jersey.
7. Ronaldinho
He won the world cup with Brazil in 2002, and he is one of the Brazilian players who managed to have a successful career at club level outside of Brazilian soil. He played for Barcelona for five years, where he helped the club win two league titles and a champion league title. In early 2000, he was considered to be the best player in the world. His greatness can be attested by the fact that he won the FIFA World Player of the Year twice, in 2004 and 2005.
8. Romario
Having won the 1994 World Cup golden ball, a tournament in which his nation also triumphed, Romario has been praised for his extraordinary exploits on the field. His five goals in the 1994 World Cup were crucial in helping Brazil to be crowned the champions. His importance to the national team cannot be overlooked in that he managed to score 55 goals in just 70 matches. Injuries and indiscipline cases limited his World Cup appearances to just two, but he is still one of the greatest players to wear the Brazilian jersey.
9. Nilton Santos
This is the first defender to appear on the list. He is a great player who played for Botafogo, and he helped his country claim the 1958 and the 1962 World Cup titles. In addition to that, he also helped his country win the South American championship. Playing as a full-back, Santos amazed over 75 caps for his country. He also helped Botafogo win four state championships and two national titles.
10. Carlos Alberto Torres
Nicknamed "O Capitao" for the leadership role he played for his nation in the 1970 World Cup triumph, the wingback also scored a goal, which many consider being the best ever scored in a World Cup competition. Although he started his career at club level with Fluminese, it was at Santos where he managed to have great success. He spent eight years at the club winning two Brazilian championships, five state titles, and a South American Super Cup.     
Neymar Jr leads Brazilian team-mates in a fun game of table-tennis football. It makes sense that a lot of athletes like this would enjoy playing some sort of athletic game while they have some free time. This might not be the first game that people will think of when they imagine the likes of Dani Alves, Philippe Coutinho, and Gabriel Jesus playing together. However, it seems that table-tennis football can be a great bonding exercise for all of these men.
This actually happened during a training session. Obviously, even during a training session, players like this are going to need to blow off steam to a certain extent. However, people might actually interpret the table-tennis football as part of the training session that all of the players wanted. After all, it is possible for plenty of people to be able to enjoy games while still getting a lot of benefits from them logistically.
People do learn through playing, even though this is something that a lot of individuals try to deny at different points. It's important for everyone involved to really explore different ways of excelling at a sport.
The fact that Brazil is doing so well right now in the real games should make it that much clearer that these informal sessions and games are working. A lot of people are finding it easier to just enjoy themselves, knowing that Brazil is doing much better than Uruguay at present. Some people might even interpret the table-tennis football game as a gesture of confidence and dominance.
It demonstrates that all of the people involved are interested in being able to show everyone that they feel so great that they can actually spend their training sessions just playing games that are not strictly going to help them become better athletes. Of course, it is still possible for most people to use table-tennis football to their advantage when it comes to a wide range of different athletic activities.
At websites like the Royal Vegas online casino, a lot of people will surely be betting on Brazil. They're doing well enough that it might seem unwise to bet against them. However, there have been plenty of situations where teams seemed to be doing well and then became overly confident. This is a pattern that could repeat itself again, of course. If it does, then people are going to look back on this table-tennis football game in a particular way.
Of course, people also might look back on the table-tennis football game in a purely positive way as well. They might see it as a sign that a lot of people are going to succeed against all odds in their sport of choice if they just learn to relax when necessary. It looks like this is a team that knows how to do that. Some people might say that the team members still look overconfident. However, their confidence will look that much more reasonable in retrospect if they do end up succeeding as well as a lot of people think.
Sports Events 365 announces recommendations for sport tourists: Ways to combine the most interesting Champions League matches
The UEFA Champions League generates an estimated €237 million tourism and travel revenue from 778,700 travelers – 264,000 by plane, 272,500 by rail, and 241,400 by bus. The Champions League is now entering the group stage in Europe. Every year, including this year, Champions League matches attract large numbers of tourists from many countries, who invest time and money to watch live matches in the stadiums. They are just one of the impetuses for the sharp growth projected for sport tourism, from a $1.41 trillion market in 2016 to a $5.72 trillion market in 2021, according to a study by Technavio in August 2017.
Most importantly, European and non-European sport tourists are looking to combine their trips to top touristic cities with interesting matches by leading clubs with the world's top football stars, most of whom play in Europe.
To mark the opening of the group stage of the UEFA Champions and Europa Leagues, Sports Events 365, a provider of tickets to sporting events worldwide, is offering recommendations for attractive combinations of top tourist cities and top-quality football matches held in proximity. The recommendations are meant to inspire avid football fans to a fuller experience by attending two matches or more in a very short trip.
The first matches offered by Sports Events 365 are part of the third round of the Champions League group stage in Spain and Portugal. Spain is the world's third largest tourism market, with 75.3 million tourists in 2016 who spent €77 billion – 11% of the country's GDP. Sports Events 365 advises the sport tourist to fly to Madrid to watch Real Madrid vs. Tottenham Hotspur match on October 17th, followed by a short trip to Barcelona to watch FC Barcelona vs. Olympiacos CFP on October 18th. An alternative to the match in Barcelona is a trip to Lisbon, in neighboring Portugal, to watch SL Benfica play Manchester United on October 18th.
Sports Events 365 notes an estimate by FC Barcelona, that an average of 10,000 of the 78,000 attendees of an average La Liga match are foreign tourists. Sports Events 365 estimates however, that the relative proportion of sport tourists is higher for Champions League matches. The away club supporters usually travel from another European country and are more enthusiastic in their wish to attend and cheer from the stands, than the average football tourist that attends a regular La Liga match.
Another attractive set of matches is to be found in the fourth round of the Champions League group stage. Fans of the Premier League are welcome to watch top EPL clubs at a fraction of the prices charged for matches in England. A quick trip to Italy to watch AS Roma vs. Chelsea FC on October 31st and a hop down to Naples the next day, November 1st, to watch SSC Napoli play against Manchester City will set you up nicely with top-of-the-chart clubs from both countries.
Alternatively, fans can choose to go to England and Scotland for the fourth round, where interesting matches await them as well. Glasgow boasts a very interesting match between Celtic FC and Bayern Munich on October 31st, or begin the trip in Manchester on October 31st with Manchester United and Portuguese SSC Benfica, at Old Trafford. Going to London the next day, on 1st of November, will ensure the continuous delightful experience with a match between Tottenham Hotspur and current Champions League Champion Real Madrid at Wembley Stadium. Liverpool fans may prefer to travel to nearby Liverpool on November 1st to watch their club play NK Maribor. Altogether, fans can choose from four attractive matches in two days.
The sixth Champions League round of matches features two attractive sets. Fans who will travel to Barcelona in early December can watch FC Barcelona play Sporting Club Portugal on December 5th. A short trip from Barcelona to Madrid will enable them to watch another top match between Real Madrid and Borussia Dortmund on the next day, December 6th. All in all, a possible brief sun and football vacation for Northern Europe travelers.
Alternatively, by traveling to the UK fans of Russian and English clubs will enjoy a unique combination of fascinating matches between clubs from the two nations. Fans who will fly to Manchester, North England, in early December can watch Manchester United play CSKA Moskva at Old Trafford on the 5th, and then hop over the next day, the 6th, to Liverpool, where Liverpool FC will play against Spartak Moskva. Sport tourists who prefer London can go to the British capital to watch Chelsea FC play Atletico Madrid on December 5th, and the next day, 6th of December, watch Tottenham Hotspur play APOEL Nicosia from Cyprus.
"This year, both Champions and Europa Leagues offer sets of amazing matches in the group stage in attractive tourist destinations that are within an easy distance from each other," says Sefi Donner, the founder and CEO of Sports Events 365. "People have realized that if there is a great match in Madrid and another excellent match in Lisbon on the next day, it is worth their while to make the most of the existing investment in the trip, make an easy jump between the cities and enjoy another match and a new and refreshing tourist destination. Moreover, such combinations are usually better priced than the alternative – to wait for the final stages where ticket price is much higher."
Donner concluded, "The growth in ordering combinations around Champions League matches reflects a general trend. Sport tourism has entered the era of the independent tourist, who does not limit himself or herself to buying a pre-packed trip. Sports tourists in general, and young tourists, particularly, start by securing tickets in the Sports Events 365 site, and then continue by adding online services such as flights, hotels, and suitable transportation. This way they create their own personalized sports trip.
This trend has resulted in a dramatic surge in our sales in recent months. Travel agencies that wish to keep up with this trend, learn how to fulfill the clients' demand for flexibility. Sports Events 365 cooperates with lots of bodies from the travel industry. We all enjoy the growth in demand for sport tourism. Smart travel bodies know what their clients are looking for and add their services, such as flights and hotels, to the match ticket of attractive sports events, such as these Champions League great combinations."
When Brazil crashed out by seven goals to one against Germany in the 2014 World Cup, many of the team's fans acted like the world had ended. This just goes to show how much football means to the country and its citizens.
And in many ways, the Brazilian national team is synonymous with the World Cup. Not only have they won the competition five times (more than any other), but they also hold the unique distinction of having competed in every World Cup since the competition started in 1930.
So can Brazil right the wrongs of their last awful campaign in 2018? Let's see…
Incredible pressure
When it comes to football, pressure arguably weighs heavier on Brazil's shoulders than it does on any other nation. Brazilians expect – and often demand – that the national team brings home the trophy. As Mauro Silva, a former defensive midfielder and 1994 World Cup winner, says on the FIFA website, "the more time that passes without Brazil winning the World Cup, the more the pressure increases".
With the likes of Thiago Silva and Neymar in the team, Brazil's players know how to pull it out of the bag in the big games. But back in 2014, the pressure to win on home soil was obviously too much and is perhaps a reason why they failed to do so.
Unpredictable defence
The thing about David Luiz is that he can be brilliant or terrible – depending on what day it is. He scored a brilliant free-kick against Chile in the quarter-finals in the 2014 World Cup. Yet a series of defensive errors – specifically by Luiz – cost the team dearly against Germany during an embarrassing 1-7 defeat in the semi-final.
But they look like a different team
As it happened, Brazil were the first team to qualify for the World Cup, which is a good sign for a side that failed to even make it out of their group at the Copa America 2016. Despite falling victim to a glaring mistake by the referee in their final game against Peru, the team looked to have taken a step back even further under Carlos Dunga. Yet Tite came in as coach after the competition and looks to have reinvigorated the side.
The current crop of players in the Brazil national team have always had quality, but Tite has them working as a well-oiled unit in his preferred a 4-1-4-1 system. £200 million man Neymar leads the pack when it comes to the new generation, while the likes of Gabriel Jesus, Phillipe Coutinho, Douglas Costa and Dani Alves provide a good mix of youth and experience.
Now most of the best-reviewed bookmakers for football have Brazil as second favourites to Germany. Bet365 and SkyBet both offer odds of 13/2, while Betfred has them at 6/1 to go home with the FIFA World Cup Trophy. Considering their current form and the fact that they have Neymar, we certainly wouldn't bet against them.
The World Cup in Russia may still be nearly a year away but the bookmakers have already released their odds for the outright market and Brazil start as second favourites behind holders Germany. Can Tite's side justify this market support?
Brazil Football via Twitter
Brazil sealed their qualification for the summer tournament back in March. As of August 2017, they are just one of three teams to have guaranteed a spot at the event which begins on June 14, 2018. Iran have also booked their place in Russia, whilst the hosts automatically qualify.
The Seleção sealed their place with a convincing 3-0 win over Paraguay, which completed a ninth consecutive win in their South American qualifying group. Goals from Marcelo, Phillipe Coutinho and Neymar made light work of their opposition to continue the side's record as the only ever-present in the tournament since its inception.
If you're going to be placing a bet on the football during the tournament then Brazil definitely looks like a team that could be worth putting your money on. If gambling is your thing then Footy Accumulators could be worth checking out as they provide football tips and predictions on of all the biggest matches daily.
It left second-placed Colombia nine points behind, with the top two meeting again at the beginning of September. Brazil also host Ecuador and travel to Bolivia in their remaining contests.
It's been quite the turnaround for a side who were embarrassingly beaten 7-1 at the hands of Germany on home soil in 2014. Things got off to a terrible start and Luiz Felipe Scolari's side found themselves 5-0 down at half time with a perplexed home contingent watching on in disbelief. The coach later described the defeat as the 'worst day of his life' and was relieved of his duties following a 3-0 loss to the Netherlands in the third-place playoff. The ghosts of that hammering appear to have finally been laid to rest and the side lining up in Russia will be barely recognisable from the one which folded so easily in Belo Horizonte.
Dunga returned for a second ill-fated spell in the dugout. He may have been a hero on the pitch but he was unable to have the same effect during his second spell in charge and was sacked following a thoroughly underwhelming Copa America campaign that saw his side failed to make it past the group stages. He did lead them to ten wins on the bounce, stretching from September 2014 through to June 2015, overseeing his side score 23 goals in the process – but it all unravelled soon after he was shown the exit once again.
Champions League via Twitter
The first qualification match didn't quite go to plan as Brazil slumped to a 2-0 loss in Chile, with second-half goals from Eduardo Vargas and Alexis Sanchez leaving them with an uphill battle – but home victories against Peru and Venezuela gave them hope. They haven't lost in this group since that encounter in Santiago and their nine-match winning run has included eye-catching successes over Argentina, Uruguay and Colombia.
Impressively, they have managed to secure their passage without playing any of their home matches in Rio de Janeiro. There is an ongoing dispute surrounding unpaid bills and the Maracanã has rarely been used for sporting events since the Olympics were staged in 2016. Brazil's final qualifying match will be played in São Paulo whilst previous clashes have been staged in Recife and Bahia.
Tite's men could still have a big say on the group despite having comfortably sailed through the qualification campaign. They still have to oppose Colombia and Chile, who sit second and fourth respectively in the standings.
The latest FIFA rankings were published at the beginning of August, with Brazil restored to number one, knocking Germany off the top spot. Tite played down the news, admitting that it will mean nothing if the five-time world champions fall short of expectations in Russia. He insisted that his side must continue to work hard and not rest on their laurels. They cannot afford to lose momentum prior to a major tournament. The former Corinthians boss has overseen just a single defeat during his 11 game tenure and the players appear to be enjoying working under his tutelage.
Tite has been praised by many of the squad, including Neymar, who told the media: "He's an excellent coach with great technical knowledge who respects every professional," before adding: "I have an excellent relationship with him."
It's been a busy summer for the golden boy of Brazil, who swapped the Nou Camp for the Parc Des Princes for an eye-watering fee of $198million. Neymar has already made himself at home in the French capital, netting in both of his appearances in Ligue 1 so far and being instrumental in their immediate rise to the top of the table. The club have netted 11 times in their first three matches. He's netted 55 goals in 72 appearances for his national side and is likely to play a pivotal role during Russia 2018. Pele holds the all-time record of 77 goals during his time representing the Seleção and Neymar appears determined to rewrite history.
Another Brazilian making the headlines this summer is Phillipe Coutinho, with the Liverpool playmaker heavily linked with a move to Neymar's former employers Barcelona. Coutinho has lit up the Premier League with his deft touch and eye for the spectacular and has been courted by the Catalonian club for a number of the months. He missed the beginning of the English top-flight season through injury but there is still a possibility he may leave Anfield before the European transfer window slams shut on August 31.
The 2016 Samba Gold winner is a tremendous talent and can change games instantly and could join fellow Brazilian Paulinho at the Nou Camp following the 29-year-old's recent transfer from Guangzhou Evergrande of the Chinese Super League. The former Spurs player divides opinion but new Barcelona coach Ernesto Valverde has shelled out $36 million for the new recruit and is hoping he can help his side regain their La Liga title after losing out to Real Madrid last season. Rafinha is another Brazilian at the club and the 24-year-old has worked his way into the starting XI over the last couple of seasons after spending time on loan at Celta Vigo.
Brazil Football via Twitter
Another emerging talent is Gabriel Jesus, who is likely to be called up to the World Cup 2018 squad. The former Palmeiras man scored five goals in six appearances during the qualifiers including firing a brace against Ecuador in September 2016 as he announced his arrival on the international scene. He also found the net against Venezuela, Peru and Bolivia. The 20-year-old was also an integral part of his country's Olympic squad, netting three times at the 2016 tournament.
Following a big-money move to Manchester City, he netted seven times in ten matches before an injury curtailed his season. He is a natural finisher who will surely relish linking up with the likes of Neymar and Coutinho on the biggest stage of all. He's been backed by Brazilian legend Cafu who recently told the media: "If Gabriel Jesus maintains his form for Brazil, I believe he'll be up there with Romario and Ronaldo as an all-time great."
There is plenty of expectation surrounding the attacking talent and it's important that his progression is managed correctly.
Other players who look set to feature in Russia include the ageless Dani Alves, who continues to bring energy and class to the team and Chelsea's Willian who continues to impress in West London, with workrate and an eye for a spectacular finish. He will certainly have plenty of competition when it comes to set pieces next summer. Roberto Firmino, Felipe Luis and Marquinhos have all been competing at the highest level and provide an exhaustive list of possibilities for Tite.
The latest squad announced at the beginning of August excludes David Luiz, who many Brazilian fans still hold partly responsible for their demise at the World Cup 2014 and Alex Sandro but does feature Gremio star Luan, who was part of the successful Olympic squad. Liverpool and Spartak Moscow are rumoured to be battling for the signature of the talented striker who has impressed this season in Brazilian Serie A.
Ederson and Allison will battle for a position in goal whilst Real Madrid's breakout star Casemiro has also been included in the 23-man squad.
It's a hugely talented squad and Tite's men appear to be playing with plenty of confidence. They can go into their remaining qualifying matches with the pressure off and even field slightly more experimental lineups to test the water ahead of next summer's showdown in Russia. Brazil are currently second favourites behind Germany in the betting and are priced at 7/1 for success. That price is likely to change when the draw is made at the start of December with each side discovering their group opposition for the first time.
City Watch via Twitter
One of Brazil's major market rivals appear to be Argentina, who are priced up at 9/1 for success in Russia. The beaten finalists of 2014 haven't had the smoothest of qualifying campaigns and recently dispensed with lacklustre head coach Edgardo Bauza. La Albiceleste beat Brazil in a recent friendly encounter but were convincingly beaten during their last competitive meeting in November 2016 thanks to goals from the aforementioned trio of Phillipe Coutinho, Neymar and Paulinho.
Jorge Sampaoli has been drafted in following a successful stint at La Liga outfit Sevilla and he is tasked with improving the vastly underperforming side who currently sit fifth in the qualification standings. It is far from a lost cause as they lie just a point behind Chile and Uruguay but they cannot afford any more slip-ups otherwise their place at the World Cup will be far from guaranteed. They face a difficult game away from home against Uruguay at the beginning of September before hosting Venezuela just a couple of days later.
Sampaoli has some of the world's best players at his disposal but moulding them into a cohesive unit appears to be the biggest challenge as his predecessors will attest to. The new coach has dropped Juventus powerhouse Gonzalo Higuain from his squad and will be hoping Lionel Messi can finally shine on the international stage after a series of underwhelming tournaments (by his high standards).
Brazil will also be wary of 2010 winners Spain, who are always strong competition and Euro 2016 runners-up France, who have a similarly talented squad which included Antoine Griezmann, Paul Pogba and one of Europe's hottest talents in the shape of Kylian Mbappe. Germany continue to go from strength to strength and wrapped up the 2017 Confederations Cup with an under-strength squad and Joachim Low's side look set to provide Brazil's biggest competition at the tournament.
Tite has been a revelation since taking over from Dunga and his side can see out the remainder of their qualifying matches with the knowledge that they've already booked their place on the plane next summer. They have been priced up prominently in the market and this is a hugely exciting time for Brazilian football. They've suffered the crippling lows of losing 7-1 on home turf and it's time the Seleção bounced back in 2018. The likes of Neymar, Coutinho and the impressive Gabriel Jesus will be forces to be reckoned with and, coupled with unknown quantities such as Luan, they should be hard to stop.
Brazil have shown their quality over the past 12 months and it's important to keep the momentum going ahead of any major tournament. It may be fewer than four years since the previous World Cup but this genuinely feels like a new era for Brazilian football and there is absolutely no reason why they cannot upset the favourites Germany and justify all of the early market support.